Name:
Lantia
Address:
Praça Duque de Saldanha, 1 - 4F | 1050-054 Lisboa
Website
https://www.lantia.pt
Email
geral@lantia.pt
Phone number
+351 211 165 360
Company profile:
LANTIA is a real estate development company focused in residential and touristic projects, incorporated in Macau in 2015 and with its activity concentrated in Greater Lisbon.
ELEMENTS
Oeiras
DESCRIPTION
Located in the Jamor Valley, the new ELEMENTS residential development merges with nature, reflecting the elements that are essential for enjoying life to the full. Air, water, earth and fire, each vital to human life, inhabit this new development, along with a fifth exclusive element: time. With the river as backdrop, ELEMENTS comprises 70 apartments distributed across five buildings, there are one, two, three and four-bedroom apartments. With swimming pool, gym, 24hrs security, gardens, and several leisure areas.
PHASE
Under construction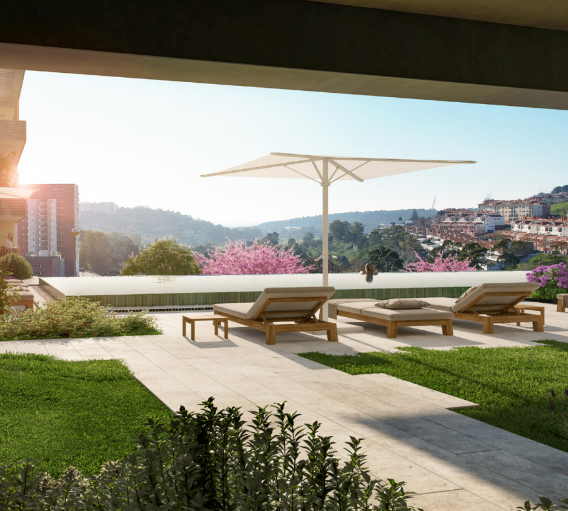 ---
VERTICE
Lisboa - Campo Pequeno
DESCRIPTION
Located next to Campo Pequeno square, between Avenidas Novas and Alvalade, the VERTICE development combines the best of both worlds: the convenience of being close to all facilities and services in one of the most consolidated areas of Lisbon and most wanted by Portuguese families; with an architecture developed for the full enjoyment of interior and exterior spaces. VERTICE comprises 119 apartments, ranging from T0 to T5. A special reference for two magnificent penthouses, with private mini pool on the terrace.
PHASE
Under construction
---
AURORA
DESCRIPTION
The "AURORA" building name comes from the sculpture above the entrance door, a work by Leopoldo de Almeida, one of the most important Portuguese sculptors of the 50s and 60s of the XX century. A paradigm of modernist architecture at the time, known as the "soft Portuguese style" (1930-1960), "AURORA" is in the centre of everything, just a few minutes walking from M. Pombal, Av. Liberdade, P. Eduardo VII, Saldanha and F. Calouste Gulbenkian. To the prestigious location (Av. António Augusto Aguiar, 7), with the exclusivity of 36 apartments (1, 2 and 3 bedrooms and penthouses).
PHASE
Under construction