Investment
Golden Visa: "We cannot afford to start closing doors"
With new law projects that call for an end to the program, the real estate market points to "a poor country with rich behavior, as if we did not need investment".
03/25/2021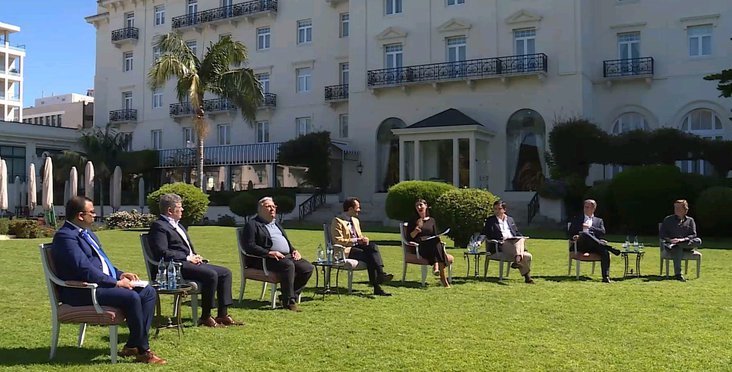 The golden visa program, or Resident Permit for Investment purposes, will change, starting January next year, restricting real estate investment to certain areas of the country. But some political parties want to end the program before then.
This was the theme debated during the webinar "What Now, Golden Visa?", organised by Century 21, APPII and Morais Leitão this Tuesday, which featured several real estate market players.
Rita Ferreira Lopes, from Morais Leitão, gave a brief overview of the several legal changes made to the golden visa regime since its inception in 2012. The most relevant promises to be the one announced in 2019 and published last February which will come into force in January 2022 and will end Residence Permits being issued for the purchase of housing real estate assets in coastal areas, including Lisbon, Porto and Algarve, which up until now concentrated the bulk of this type of investment.
However, about one month after the legal change was published, political parties Bloco de Esquerda (Left Block) and green party «Os Verdes» announced they will submit two draft laws to the Parliament seeking to end the golden visa regime, arguing that it contributes for the increase in real estate speculation and the risk of money laundering, amongst other reasons.
Legal and fiscal stability are required by the market, especially at a time when the law is being changed in the midst of a crisis, during which foreign investment will be vital for the recovery of the economy, once the pandemic is under control. Hugo Santos Ferreira, APPII's Executive Vice-President, asked whether «we want to close our borders to foreign investment», admitting that «investors will move to other countries where they are welcome».
To go against the will of the investors who invested on coastal areas will have consequences and the most significant will be leading them to other shores, such as Spain». And he recalled that «within the currently existing law, there is already a 20% discount for those who invest in the countryside, but no investment rationale was yet found».
Hugo Santos Ferreira attested the investors' «consternation» with this news and said that «it is the country's reputation, within and abroad and as an investment destination, that is at stake as well as the its stability: we ask the Parliament to proceed with the legal alternative it found in 2019 and which was published last February. It is essential that the Parliament does not undermine the expectations of those who believe in our country and have already started adapting their investments».
He recalled that construction currently represents around 600.000 jobs, apart from influencing a whole set of areas and sectors. «To constantly move forwards and backwards is reason for concern in terms of the creation and maintenance of these jobs», he defended.
The market defends the positive multiplying effects this program has had in the Portuguese cities, such as the urban renewal of Lisbon and Porto's historical centres, or the creation of a new economic dynamic after the last crisis.
Ricardo Sousa, from Century 21, recognised the «important challenges the country faces», both economical and demographical, but he believes that «not all are related to real estate». He defended that «this program impacted more than just real estate, it also affected the families' sense of trust, which is the market's real engine».
Luís Gamboa, from VIC Properties, also took part in this round table and recalled that «most acquisitions that took place in 2019 (under the Framework of the gold visa regime) were carried out in coastal regions». Beginning next January, «Castelo Branco will not be competing with Lisbon, but with Madrid», he exemplified, cities which «cannot be compared in terms of centrality with other capitals». And he believes the new legislation will not be enough, on its own, to benefit the countryside.
José Cardoso Botelho, from Vanguard Properties, questioned the argument concerning money laundering, stating that he knows «of just one case, in which those involved where acquitted. As far as I know, there were no more cases in Portugal after that». And he considered that this regime has no impact on real estate prices, and it does not bring «undesirable people to Portugal, quite the contrary».
He further alerted that «this is the sector that pays more taxes. For example, th e Lisbon City Hall carries out the works it does thanks to the taxes collected from this sector. 40% of construction costs are for taxes».
Foreign investment remains fundamental
The webinar's participants defended, mainly, the importance of this mechanism as an instrument to attract foreign investment, necessary for real estate, but also for the whole economy.
Pedro Vicente, from Habitat Invest, considered that «those who oppose this program are wrong», and he remarked that «instruments such as this supported 90% of real estate investment operations in Portugal. If this is not a warning as to how important it is, then we are in a very bad place». «We are a poor country which behaves like a rich country, as if we didn't need investment», he concluded.
José Roquette, from Grupo Pestana, agreed that «Portugal's situation is very fragile. Sooner or later, we will need a new bailout, which we would rather didn't happen. We have an extraordinary dependence on foreign capital, because we do not produce, nor accumulate enough in Portugal. Anything that jeopardises attracting that foreign capital, which is so fundamental for our life, is negative. We cannot afford to start burning bridges», or to «be held hostages by small political wars or some provincialism».
Bhavik Chunilal, from EY, remarked that «the creation and maintenance of jobs in the construction segment has been achieved based on real estate investment, a lot of it generated by the golden visa regime. By restricting this investment after January 2022, we may drop very steeply amongst the investors' preferences», he warned.
Countryside should unite and invest on its own promotion
Hugo Santos Ferreira recalled that «February's legal change did not come at a good time, but it is with this law that we have to live with». And he identified the new opportunities brought in by the law, despite the less positive changes for the sector.
Praising the concession of a one-year transitional period, he highlighted the need to «revisit the decree concerning the countryside to define which exactly are the municipalities to be covered, which include some coastal civil parishes. Madeira and the Azores in particular, should take advantage and create packages to attract foreign investors, but also some areas within the Algarve, such as Loulé, which remains eligible», he defended. He believes that «the strategy should be to create a task force integrated in promoting the countryside, so that this investment could be more attractive».
The way forward could be a Smart Visa
APPII has been defending and supporting the golden visa regime's adaptation, but not following the same path as the Government, but rather «a smart, green and social path».
Hugo Santos Ferreira said that «the program could and should evolve into a second stage, which would meet the country's needs for 2021, which is not same as 2012, despite the needs remaining the same, especially following the macro European documents and incorporating the concepts of circular economy and the European Green Deal».