Retail
Supermarkets: new investment star in Europe
Confinement in Europe highlighted the supermarket segment's resilience with investment increasing 40% y-o-y. Nevertheless, European retail is set to see repricing in 2021.
01/13/2021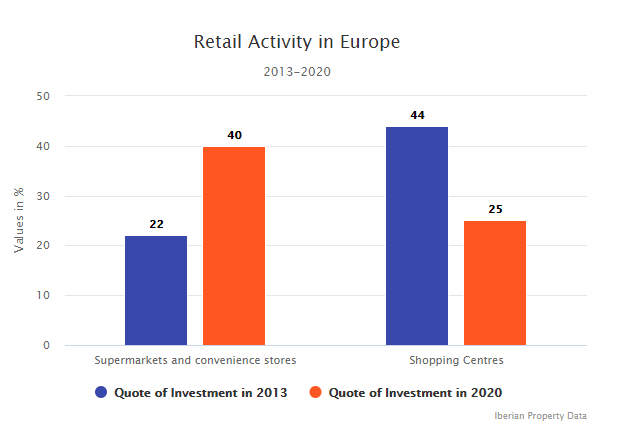 Supermarket transactions reached around 5.2 billion euro at the start of 2020's fourth quarter, a 40% y-o-y increase. When taken into account the activity until the end of the year, the difference should be even higher.
The data issued last week by Savills Aguirre Newman further revealed that supermarkets and convenience stores (including retail parks) have topped investor shopping lists this year, and the combination of transactions accounts for 40% of total retail activity since the beginning of 2020, versus 22% in 2013. Conversely, shopping centres accounted for 44% of the total retail investment activity in 2013, and their share dropped to 25% in 2020, which reflects the true reversal of fortunes accelerated by the pandemic.
This happened because «the supermarket and the convenience markets have proven to be more resilient than other retail segments this year, although not immune to the rise of e-commerce, and the pandemic has proven that they must innovate», remarked Eri Mitsostergiou, Director at Savills European Research.
The consultant went even further and mentioned that it was the supermarket and convenience stores deals that reinforced retail investment in Europe during 2020. The fact is that, despite being pointed out as one of the segments most impacted by the crisis, retail reached around 20.9 billion euro in terms of investment in Europe during the first three quarters of the year (almost the same amount as the previous year), which allowed it to maintain a 17% share of all European real estate investment.

Spain increased by 120%
Spain was one of the countries where investment in supermarkets was clearly higher than the previous 5-year average: it has increased by 120%. The same consultant predicted last December that supermarket investment in the country should reach 640 million euro, a record amount.
Among the other countries where supermarket investment was much higher than the previous 5 year average, were Germany (+197%), Poland (+64%) and Italy (+76%). «The appetite for this retail segment shows no sign of abating», highlighted Savills.
In fact «the supply of product has been driven by investors who are aiming to reduce their exposure to the retail sector and owner-occupiers who are trying to raise capital through sale and leasebacks», remarked Eri Mitsostergiou, who further mentioned that «investment activity has been further strongly underpinned by demand for food and convenience retail, a segment where profits have soared under lockdown».

European retail set to see repricing in 2021
The future for more problematic retail schemes lies in redefining their tenant mix and layout, introducing new uses or repurposing them all together, which can be costly, says Savills.
«The smart retailers that will survive and likely thrive post-pandemic have been able to optimise their omnichannel offering and supply chain, diversifying to provide greater e-commerce services, convenience stores in urban locations and upgrading their shops to offer improved onsite consumption – a concept known as 'grocerants'», considered Eri Mitsostergiou.
Nevertheless, there is a central question to be raised already in 2021: the repricing of these assets. «The key question next year will be the level of repricing required in order to attract the value add/opportunistic investors who will be prepared to turn the asset around», suggested Oli Fraser Looen, co-head Savills Regional Investment Advisory team, EMEA.
According to Savills, prime retail yields are likely to move out a little further but not as far as in 2008, as economic activity and spending are projected to bounce back in the second quarter of next year. The latest data issued by the consultant show that the retail yields' expansion is already being felt in Europe: 27 bps and reaching 5.25% within shopping centres and 15bps to 3.48% within high street retail.  The consultant further added that «yields are also likely to soften for secondary assets offering value-add opportunities. Retailers that require the cash for investment into their core businesses are increasingly taking advantage of the growing investor appetite for this sector and unlocking capital through sale and leaseback transactions».
«In 2021 we are confidently expecting to see a significant downward price correction in the sector, which will be sufficient to highlight the retail risk premium over other asset classes, and therefore attract opportunistic investors», commented Oli Fraser Looen. «In the second half of the year, we will undoubtedly see some exciting retail deals completing and a wave of sale and leaseback transactional activity across the grocery sector, as well as non-food retailers with strong covenants».